**Open level – Brazilian, West African, Cuban hand drumming and more**
In these short courses all are welcome to explore the world of hand drums.
Enjoy the spiritual beats of Brazilian Atabaque, West African Djembe, Cuban Conga technique and lush Bahian Timbau flavours.
---
Whether you want to brush up your technique, learn to play along to pop tunes, explore deep rooted cultural music forms or just have fun playing in a group, then this is the place for you.
This is a series of open level courses for complete beginners to more advanced players. Everyone is welcome and all equipment is provided. All we ask for is your commitment to learning and supporting others.
---
6:30-7:30pm | Technique / Warm up
7:30pm – 8:30pm | Grooves
8:30pm – 9pm | Jam it out / cool down
---
For those that want to take their playing to the next level you can also take your new rhythmic skills into the regular ensemble classes and rehearsals as part of the Global Grooves Bloco and eventually join us on the streets and fields at some of biggest Carnivals and festivals in the UK. Or if there is a particular style you would like to focus on you'll be looped into our extensive international network of courses, tutors, performers and study trips.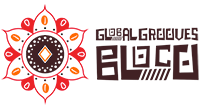 Global Grooves Bloco Members have FREE access to all Practical Hand Drumming courses and classes.  Please use your discount code at checkout (login to view your discount here). For those that can, we encourage donations from our Bloco family.